news & teaching
news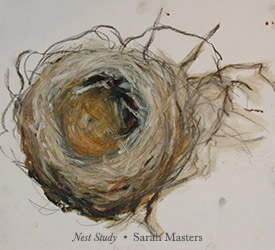 poets on craft
Bunkong Tuon kindly asked me to take part in this series he edits, and I got to do so with a poet I admire very much, Maxine Scates.
plume
My poem "Tempe Wick" is part of this beautiful feature on acceptance and forgiveness, thanks to wonderful Sally Bliumis-Dunn.
the ilanot review
Thanks to the kindness of editors Marcela Sulak and Lauren Camp, I have two new poems in the "Earth" issue of The Ilanot Review.
of poetry podcast
Writer/editor/lovely human Han VanderHart is a force for good in the poetry world. I loved being a guest on their podcast, loved talking with them about fairytales and social media (!) and the more-than-human world. You can find links to the episode here.
forthcoming poems
Poems are forthcoming in The Manhattan Review, Bennington Review, Tahoma Review, and River Styx, sometime in 2022. This feels very lucky, and I'm grateful to the editors.
the southampton review
My poems "Litany (Somehow)" and "Away in February" are included in the Winter 2022 (print) issue of TSR. So much gratitude to poetry editor Michelle Whittaker for her support and kindness.
cincinnati review
It's lovely to have a poem with an unusually long title (for me) in issue 18.2 of this journal I've admired for years. Many thanks to Rebecca Lindenberg.
narrative
My poem "Coracle Means a Small Vessel, a Boat" is up at Narrative. Gratitude to all the staff there, especially Jack Schiff for his support and kindness.
waxwing
I've loved Waxwing for years! Very thrilled that "Kittatinny" is included in their summer 2021 issue. Enormous thanks to Justin Bigos and Iliana Rocha.
tinderbox
Thank you so much to the editors, especially Hannah Dow. "Love Poem With No Mountains in Sight" is part of the summer 2021 issue of this smart, beautifully-curated journal.
nelle
Many, many thanks to editor Lauren Slaughter and the staff of NELLE for including my poem "Self-Portrait as Lost Earring" in Issue 4.
ninth letter
My poem "Body of Water" is part of their Fall/Winter 2020/21 issue, and I'm honored. Ninth Letter consistently publishes poems I love. Thank you so much to the editors.
salamander
A favorite journal for so long. "Inverting the Winter" and "A Brief History of Silk" are in the winter/spring 2021 issue of the journal, with many thanks to José Angel Araguz, Katie Sticca, and Anna Ross.
my small press writing day
The very generous Rob McLennan included a short piece I wrote on this blog/series of his. The whole series! Is wonderful! Highly, highly recommend (and such thanks to him).
superstition review
Many thanks to Patricia Murphy and all the student poetry editors! I'm excited and honored that my poem "The Tool Shed" is included in Issue 25.
crazyhorse
"The Silo" and "Litany (Easter)" are in the spring 2020 issue of this wonderful journal. Gratitude to Emily Rosko and Jonathan Bohr Heinen.
cherry tree
I've long admired this journal and am so happy that my poem "Birthday" is part of issue 6. Much thanks to all the editors, including Lindsay Lusby and James Allen Hall.
ecotheo
Thanks to the wonderful editors, especially Crystal Brandt and Jason Myers, three poems are up at EcoTheo. I love everything about this journal and the expansive, inclusive, beautiful work they do.
cave wall
I have three poems in issue 16 (winter 2019/2020) of Cave Wall, a journal I love, thanks to Rhett Iseman Trull, CW's wonderful and generous editor.
ecotheo
This smart, beautiful new journal just published my review of Maya Jewell Zeller and Carrie DeBacker's Alchemy for Cells and Other Beasts in their first print issue, and I'm very grateful to editors Jason Myers, Hannah Vanderhart, and Alexandria Barbera for all their work, and for including me.
pleiades
Happy, honored, delighted to have two poems, "Nightjar" and "Of Pink," in the summer 2019 issue. Big thank you to Jenny Molberg and Erin Adair Hodges.
spokane public radio
This was and is such a joy! Maya Jewell Zeller, whose work I love, read my poem "Foxgloves" (beautifully and heartfully) for her poetry series on Spokane Public Radio. Thank you, thank you, Maya.
anchor
My poem "The Blind" is in the current issue (#10) of Anchor magazine, thanks to all the editors, especially Perry Dougherty, Lauren Spahn, and Nadia Colburn.
cave wall
I'm thrilled to have three poems in issue 15 of the beautiful journal Cave Wall. They publish so many poets I admire. Deep thanks to editor Rhett Iseman Trull.
colorado review
My poem "Litany (Boreal)" (part of a longer series of litanies) is in the spring 2019 issue of Colorado Review, thanks to Donald Revell and all the poetry editors.
water~stone
I have daydreamed about having poems in Water~Stone, and now two of mine are in the current (Fall 2018) issue. Gratitude to all the editors, especially Katrina Vandenberg, whose poems I love, and to Sophia Patane for helping so much to get this interview (the journal interviewed all the contributors to volume 21) online.
narrative
I'm very grateful to the editors, especially Jack Schiff and Michael Wiegers, for sharing my "At Cape Henlopen" as the August 25 poem-of-the-week in Narrative. It's another journal I have admired for ages, so having a poem here is deeply happy-making.
salamander
My review of Heather Derr-Smith's remarkable book Thrust is out in the spring issue of Salamander, another dear-to-me journal. Thanks always to editor Jennifer Barber.
beloit poetry journal
Thrilled to have two new poems, "The Field" and "The Guardians," forthcoming in BPJ, one of my favorite journals. I'm always grateful to the editors, Melissa Crowe and Rachel Contreni Flynn, for their care, generosity, and smarts.
tar river poetry
My review of Mississippi, a collaborative book of poems by Ann Fisher-Wirth and photographs by Maude Schuyler Clay, will be in TRP this fall. Excited about this, and grateful to editor Luke Whisnant.
the rumpus
Thanks to poetry editor Molly Spencer, my review of Sally Bliumis-Dunn's wise, lovely book Echolocation is up at The Rumpus.
provincetown arts
Thanks to the wonderful Kelle Groom, my poem "The Girl With No Hands" is in the current (summer 2018) issue of Provincetown Arts.
jacket2
I loved reviewing Ethel Rackin's book Go On with J.C. Todd; I always learn so much from both poets. My conversation/collaboration with J.C. is now up at Jacket2, thanks especially to Kenna O'Rourke.
denver quarterly
I'm really thrilled that my poem "The Trees" is part of the fall 2017 issue of Denver Quarterly, a journal I've admired for such a long time. Thank you so much to Carolina Ebeid.
poems2go
I feel so honored to be part of this important and heartful public poetry project. poems2go provides printed copies of small poems to participating bookstores and cafes, so that people can take them (the poems, I mean) home to ponder over and live with. This week two of my poems ("The Bat" and "Window and Field") are part of this process, and are featured on the website as well. Thank you to Christine Jones.
poem of the week
Thanks to the kindness of Andrew McFadyen Ketchum and Judy Jordan, some poems from Keeper (plus a review, an interview, and a writing prompt) are up on Poem of the Week.
anchor
I love it that two poems of mine are part of the current issue of Anchor (and a third is forthcoming soon). The journal ("where spirituality and social justice meet") is gorgeous, and is doing important work in the world. Thanks to all the editors, including Nadia Colburn, whose writing and being I so much admire.
sidereal
Thanks to Katie Mertz and Amber Allen, my poem "Litany Over Eastern Washington" is part of sidereal's inaugural issue.
salamander
I'm honored and excited to have a new poem, "Small Music," in Salamander's winter 2017 issue. Thank you, Jenny Barber.
salamander
My review of Talvikki Ansel's third collection, Somewhere in Space, is up on Salamander's website.
american poetry review
Thanks to the lovely editors, my poem "Litany (Flying)" is in the Nov./Dec. 2016 issue of APR.
beloit poetry journal
My poems "Messenger" and "Talisman" are out in the Fall 2016 issue of Beloit Poetry Journal. Deep thanks to its generous and thoughtful and patient editors, Melissa Crowe and Rachel Contreni Flynn.
newshour
I feel so honored and happy (and a little bit shy) to have my poem "To Swim" included on the NewsHour site. Many, many thanks to Mary Jo Brooks.
salamander
My review of Gabriella Klein's beautiful first book, Land Sparing, is in the spring/summer 2016 issue of Salamander. Thanks so much to Jenny Barber for allowing me to write this.
jacket2
A collaborative review of Randall Potts's book Trickster, written with my lovely friend Ethel Rackin, is up at Jacket2. Many thanks to Kenna O'Rourke and Julia Bloch.
crazyhorse
Two new poems, "The Hedge" and "A Separate Bird Each Time (Origami)," are in the Spring 2016 issue of Crazyhorse. Much thanks to Emily Rosko.
american poetry review
A new poem, "Paulownia," (which is a type of tree, just in case you were wondering) is in the May/June 2015 issue of APR.
teaching
zen center of new york city
On December 3, I'm teaching a
Save
Save
Save
Save
Save
Save
Save
Save
Save
Save
Save
Save
Save